The Tax Industry's Leading Audit Execution Software
TaxMaster is our premier, state, and local tax audit execution software used by the city, county, and state agencies.
In use by thousands of field auditors, TaxMaster actively supports over 30 tax types and has been developed and enhanced to meet the specialized needs of field auditors to help organizations conduct audits that maximize time and quality.
1500+
Users can conduct audits every da
30+
Tax types are actively supported by TaxMaster​
100,000s
Of audits completed​
25+
Years of experience. ​
TaxMaster toolset meets virtually every detailed audit function
needs out of the box for all tax types.
Easy and seamless configuration
With TaxMaster, configuration, and maintenance of tax types, reporting requirements, taxing jurisdictions, current and historical rates for state, county, and local taxes are made easy through simple configuration for any state, county, or local tax structure.

As tax, penalty, or interest rates (or calculations) change, the configuration settings are managed centrally and distributed to auditors automatically.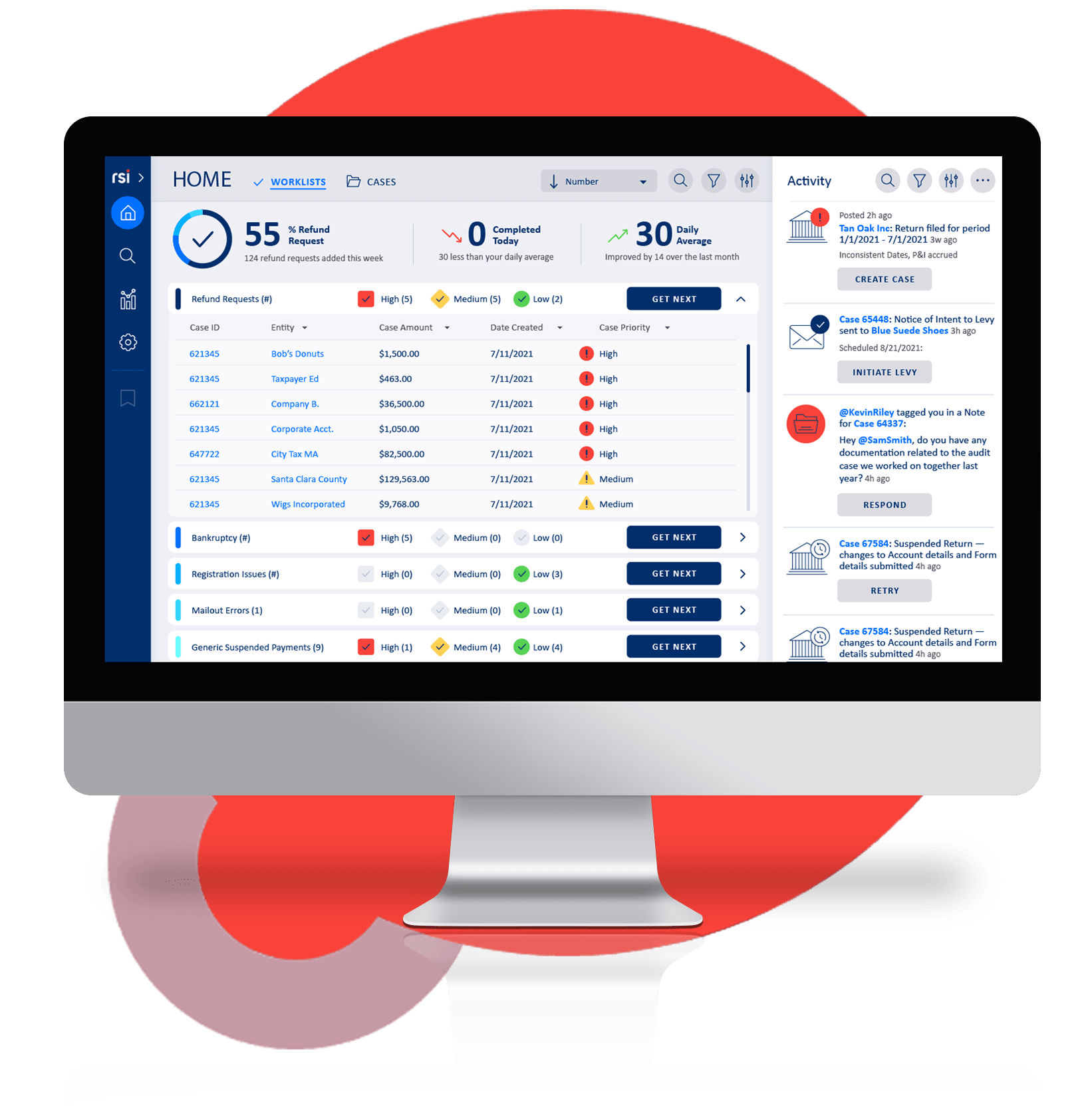 RSI offers full SRS Audit support through its Statistical Sampler system, which easily integrates with TaxMaster.
RSI's Statistical Sampler allows you to perform a Stratified Random Sample (SRS) audit. Its wizard-based approach guides an auditor through a step-by-step process to conduct an SRS audit. This way, the auditor performs the audit autonomously without (or with minimal) assistance from a Computer Auditing Specialist (CAS).

To ensure all SRS audits adhere to the agency's process and procedure, Statistical Sampler allows administrators to establish and maintain the set of accepted sampling parameters, confidence intervals, and other options in a central location.
Detailed, Block Sample and Stratified Random Sample (Statistical).
Multiple methodologies per tax type.
Tax-type specific methodologies.